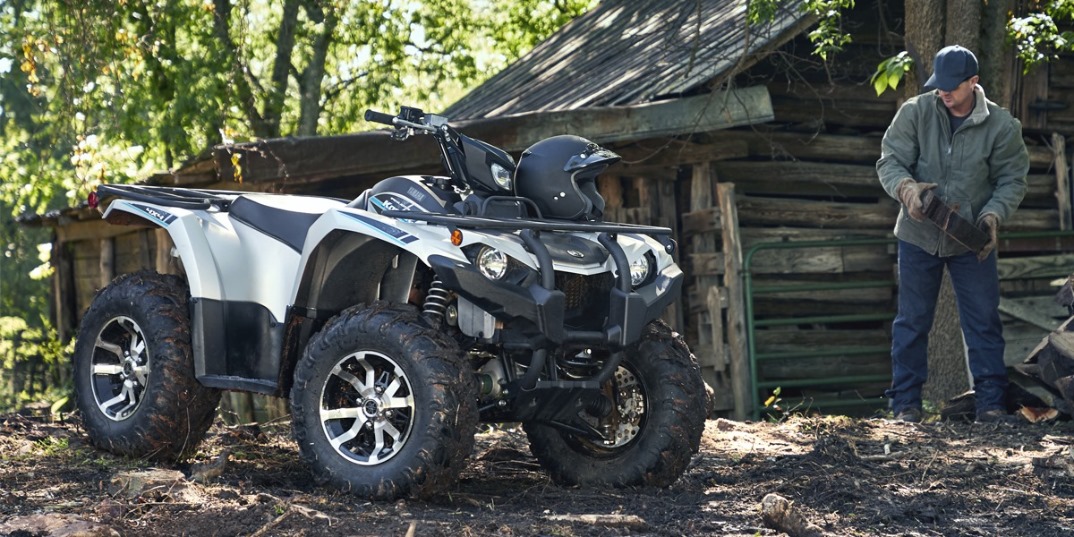 2020 Kodiak 450: Rugged, versatile and practical
Throughout the ATV world the Kodiak is recognized as the leading name in the utility class, and for 2020 the rugged, versatile and practical Kodiak 450 comes with a higher standard specification that makes it an even more effective workhorse.
With the ability to pull more than 1134kg / 2500 pounds, the new factory-fitted WARN VRx25 winch is 25% more powerful, enabling this popular utility ATV to take on the toughest jobs in any environment. This higher specification winch assembly also features a load-holding mechanical brake to give better control when dragging heavy loads - and with 15m of steel rope, the new winch is equipped to handle a range of duties in the forest, field or farm.
A key feature of the Kodiak 450 is its compact body design with a roomy riding space that ensures all day comfort, making this an ideal mid-sized ATV for work or leisure. Its high torque 421cc 4-stroke EFI engine drives through the Ultramatic automatic transmission for a smooth and effortless ride - and Yamaha's industry-leading On Command drive system enables the user to switch seamlessly between 2WD and 4WD when required, with the push of a button.
With a 120kg rack carrying capacity and 600kg towing capacity - together with its increased winch capacity of over 1134kg - the Kodiak 450 is a true all-rounder that can tackle almost any job - and yet at the same time this tough and reliable ATV is the ideal fun and leisure vehicle when the work is done.
For 2020 the Kodiak 450 will be available in a new Olive Green finish that joins the existing Ridge Red, Yamaha Blue and Camo options.
Kodiak 450 Overview
Versatile and practical mid-sized utility ATV
New factory installed WARN VRx25 winch with over 1134kg capacity
New Olive Green colour option
All day comfort, added functionality, easy to use
Designed for work and leisure
Premium Yamaha quality with great value for money
High-torque 421cc 4-stroke engine
Economical and reliable Electronic Fuel Injection
Compact body design with roomy riding space
Long-travel suspension with gas shock absorbers
On Command push button 2WD / 4WD drive system
Ultramatic automatic CVT transmission120kg rack carrying capacity; 600kg towing capacity